History & vision
Our winery is located in Kaltern, a picturesque village on the South Tyrolean Wine Route, in one of the most-ancient and best-known wine regions of Europe. Documents dating back to the year 1220 mention wine from Kaltern ("vinum de caldaro") and thus testify to a tradition extending back centuries into the past. In our family, too, we've been making wine for generations. Werner Seppi and the family have run the vineyards since 2002, but his parents are still providing a lot of support. Over the years, we conceived new ideas. Gradually the wish grew to remold the vineyards according to their personal, more-individual plans. We wanted to depart from well-trod paths and develop something special and sustainable. Thus, in 2005, we converted the Seppi Vineyards to biodynamic cultivation methods. But the work, our commitment to the vineyards, our close relationship with nature, and our personal attitude towards the proper use of the ecological resources placed at our disposal should not be reflected only in the grapes we grow, but rather also in the manner that they are fermented in the wine cellar and the way the wine matures in the bottle. That's why we took the decisive step in 2016: We take a portion of the grapes for the wine in our own cellars. We produce and market our own wine. The quality of our wines will impact the future decisions we make in the vineyards – the circle is thus completed, and the goal of Seppi's vineyards to continue developing is met.
A craft based on experience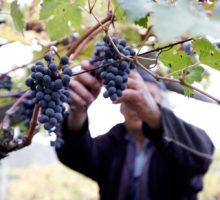 It is our goal to actively, consciously, and carefully develop our operations while taking the history of our vineyards, nature, and our resources into account. By making a maximum effort, we can thus obtain the best from our vineyards and our varieties and produce authentic wines reflecting the character of our area, our winery, and even something of ourselves.